Intesa Sanpaolo Innovation Center meets Solvita Aboltina, Ambassador of Latvia
20 May 2022
An opportunity to get to know and promote activities in the presence of a high-profile figure on the Latvian political scene

Promoting innovation also means building networks of realities committed to the same mission. It is with this spirit that on May 12th Intesa Sanpaolo Innovation Center met Solvita Aboltina, Ambassador Extraordinary and Plenipotentiary of the Republic of Latvia to the Italian Republic.
For Intesa Sanpaolo Innovation Center it was an opportunity to get in contact with a high-level representative of the Latvian government interested in building partnerships with innovation-driven companies and organizations.
The meeting was organized with the contribution of the Municipality of Turin and Guntis Rubins - Head of the Representative Office in Italy, Investment and Development Agency of Latvia. There were also present important personalities from the world of Latvian research and innovation, such as Talis Juhna - Vice-Rector for Research and Professor; Chairman of Advisory Board of the Latvian Council of Science, Riga Technical University.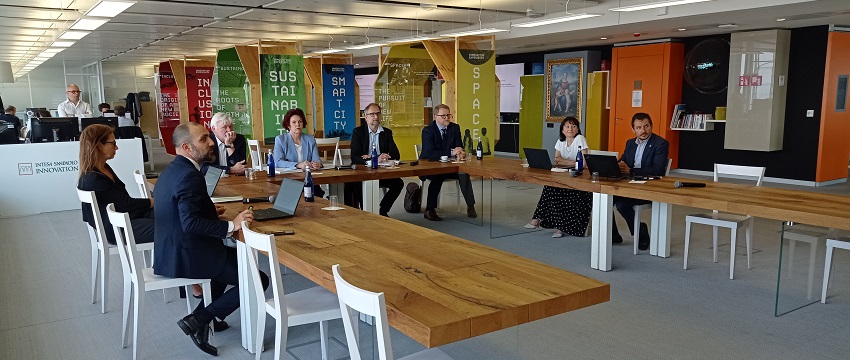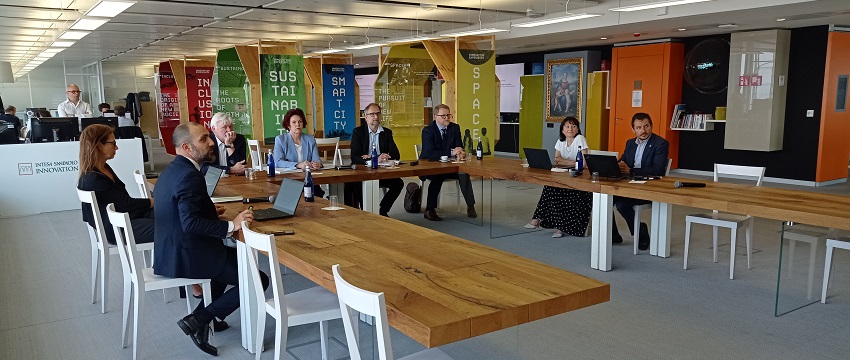 An introductory meeting to show the potential of the Company
At the beginning of the day Vincenzo Antonetti - Head of Network Development of Innovation summarized the current scenario relating to the world of innovation, explaining the role of Intesa Sanpaolo Innovation Center in bringing together supply and demand and in researching technologies capable of generating a positive impact for companies.
Following Valentina Berbotto - Liason Partner of Techstars for Intesa Sanpaolo Innovation Center talked about the innovative ecosystems that support local economies by relating startups, SMEs, companies, accelerators and venture capital funds active in the area. As a significant example, "Turin Cities of the Future", an acceleration program by Techstars based in the Turin OGRs dedicated to smart city and smart mobility themes, was presented.
Stefano Bruzzi - Evaluation and acceleration of startups has deepened the support of Intesa Sanpaolo Innovation Center for startups and SMEs both through calls and acceleration programs, and through the possibility of entering the Innovation Business Development Portfolio.
Finally, Anna Monticelli - Head of Circular Economy Desk talked about Intesa Sanpaolo Innovation Center's commitment to the Circular Economy, also carried out through strategic partnerships with entities such as Cariplo Factory and the Ellen MacArthur Foundation. Together with the English foundation, our company has published The Circular Economy as a de-risking strategy and driver of superior risk-adjusted returns, a paper also recognized at European level.
Particular attention was also paid to the presentation of the two labs of Intesa Sanpaolo Innovation Center: the Artificial Intelligence Lab and the Neuroscience Lab. Latvia is in fact interested in developing a network of laboratories spread throughout the territory and capable of carrying out innovation and applied research, in different sectors.
Lay the groundwork for future talks
In recent years, Latvia has invested heavily in R&D, also participating in European initiatives, such as the CAMART2 project, which has allowed the achievement of excellent results in the academic field and has helped to enhance collaboration between science and industry. The country is now strengthening its economy thanks to a scouting activity to identify particularly innovative and technological realities. The meeting with the Intesa Sanpaolo Innovation Center was part of this process.