Innovation Experience - the new installation on the 31st floor
26 May 2022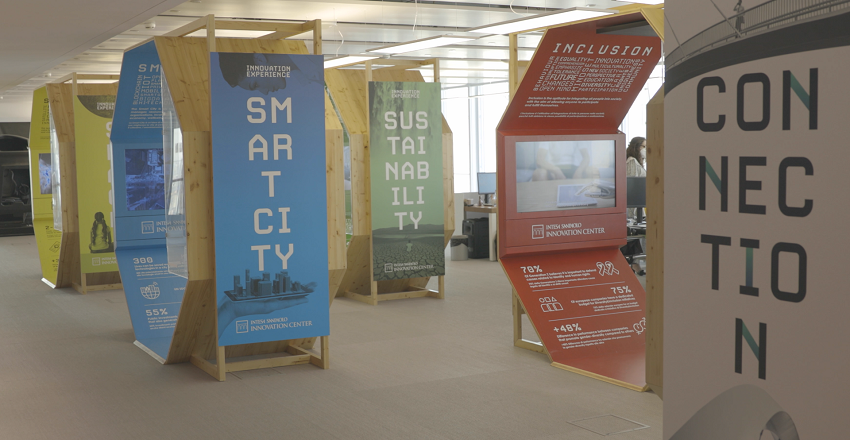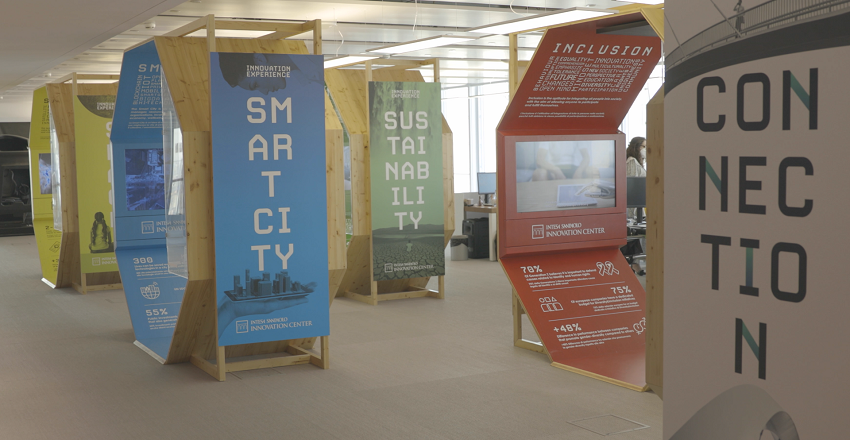 A constantly evolving path to explore trends, frontier themes and the links with people of the past and the future
Intesa Sanpaolo Innovation Center promotes the culture of innovation to build a mindset capable of generating innovative ideas and solutions thanks to the encounter between people and open innovation ecosystems.
One of the objectives of the company led by Maurizio Montagnese is therefore the creation of connections and this is precisely the theme on which Innovation Experience is developed, the new installation that can be visited on the 31st floor of the Intesa Sanpaolo skyscraper in Turin.
The constantly evolving path allows you to explore frontier trends and themes, discover their centrality in human history and get to know some of the protagonists.
The person at the center
Innovation Experience stems from the Intesa Sanpaolo Innovation Center's desire to renovate spaces after returning to a post-pandemic presence. On this occasion, we wanted to design something that would represent the soul of the Company and the choice fell on the people.
The people who are at the center of the exhibition as they are at the center of the Innovation Center. This is why the experience begins with an octagon dedicated to the idea of connection, which introduces the path and anticipates the next steps. Next, four other octagons explore specific topics that are bound to change periodically. The installation thus remains current, always offering new insights into the most interesting trends for the market and for the Intesa Sanpaolo Innovation Center.
Today the topics covered suggest a metaphorical journey towards unexplored territories, articulated from micro to macro:
INCLUSION - People and individuals
SMART CITY - Cities and urban spaces
SUSTAINABILITY - Planet we live on
SPACE - New frontiers of the future
It therefore starts with the individual and deepens the impact it is able to generate on social life, the environment and the world.

Each topic is told thanks to three-dimensional sculptures that draw on the stories of past innovators and data, videos and texts, which describe the most recent research developments for each topic. Protagonists of the past of innovation are thus put in relation with modern startups, inviting a comparison between yesterday and possible tomorrow.
The importance of the connection for Intesa Sanpaolo Innovation Center
Connecting those who propose innovation with those who need to innovate is at the heart of the activities of Intesa Sanpaolo Innovation Center, which also expresses this value with the Innovation Experience: the installation places people and not technology at the center of the narrative.
In line with these ideals, Innovation Experience wants to invite customers, schools, organizations, institutions and colleagues to visit the 31st floor, currently accessible during the events organized in presence by Intesa Sanpaolo Innovation Center, such as the Innovation Coffee.
In this way, opportunities for synergies and meetings can be generated, as happened with Internal Communication, which visited the installation accompanied by Carolina De Andreis - Communication and innovation events of the Intesa Sanpaolo Innovation Center.